Restaurants
The dining options at The Reserve at Paradisus Punta turn into authentic culinary experiences that will captivate all your senses. Sit at a table and discover slowly cooked flavours at the 3 exclusive restaurants for The Reserve guests: Gabi Club, Hydro Grill and Aqua. Furthermore, you can enjoy the delectable delicacies from 5 continents in the restaurants at the Paradisus Punta Cana, including the exquisite Passion by Martin Berasategui.
Gabi Club
The unlimited choice at the buffet and the superb, personalised service have turned Gabi Club into one of our guests' favourites at The Reserve at Paradisus Punta Cana. A varied choice of dishes so you enjoy a complete breakfast, a healthy lunch and a delicious a la carte dinner, all using surprising international recipes.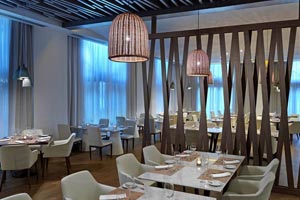 Vento
The best of Mediterranean cuisine joins forces with the freshest ingredients from the shores of the Caribbean Sea. This exclusive restaurant for The Reserve guests offers dishes that perfectly fuse the Mediterranean culinary skills with international flavours to create combinations to suit all ages and tastes. Enjoy, as you never have before, a dinner caressed by the breeze of the Caribbean Sea with flavours from the other side of the world.
HYDRO GRILL
A relaxing moment by the exclusive pool for The Reserve guests deserves a delicious lunch. At the Hydro Grill you can eat something quickly so you can enjoy the rest of the day or a more elaborate a la carte lunch by choosing any of the tasty dishes made from the freshest surf 'n' turf ingredients.
Passion
by Martin Berasategui
Excellence, luxury and Michelin star gastronomy come together at the Passion by Martin Berasategui (*) to offer a unique experience for all the senses. Savour each mouthful and aroma this avant-garde fine dining concept brings you during your Caribbean holiday. Elegance and sophistication in the dishes, the atmosphere, the décor and the service.
(*) With charge 
(*) Adults only
Other restaurants
The dining options for The Reserve guests includes the 8 restaurants located at the Paradisus Punta Cana, which includes the fun and tasty show cooking at the teppanyaki tables at the Bana restaurant, or a dinner overlooking the sea at Gabi Beach. Unlimited choice. Dishes and flavours for all tastes that will always surprise and delight you.